Outdoor Kitchen Design – Wildwood Design Services
The wildwood design department is staffed with experts who provide full-service planning and implementation of commercial and residential kitchen systems. Our designers will maximize efficiency and productivity by creating a functional and high performance kitchen layout, increasing your return on investment.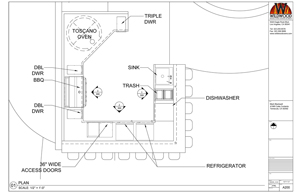 Wildwood maintains a large selection of affordable stock plans as well as custom kitchen designs. Wildwood's oven design services offer a wide array of design features; Pizza ovens, BBQ's, Counters, sinks, refrigerators, wet bars, beverage dispensers, wood storage, seating areas.
Our Ideas For Outdoor Kitchens incorporate various options of finishes to give the client a preview of the look and feel for the space prior to construction. This assures a beautiful, well designed outdoor kitchen for the home or the restaurant!
Photo-realistic 3d kitchen design renderings enable you to see & feel how your layout will look before you build it.
From these detailed design drawings, contractors can easily prepare construction budgets. Here are some ideas for outdoor kitchens in our gallery.
Features of our design:
– a thoughtful, ergonomic kitchen design that considers the placement of the oven, BBQ, or Fireplace, food prep areas, refrigerator, beverage dispensers ( ideal for dispensing large amounts of a particular beverage), sink, wood/cookware storage, oven tool storage and ash/trash disposal
– sunshade and lighting scheme
– incorporation of green-scaping to promote farm to table lifestyle
– consideration of sustainable systems such as grey water collection and solar-powered equipment.
Having a kitchen designed is as simple as calling a consultant at Wildwood
323-202-7964
Plan Modification
Our design modification service allows you to modify any of our kitchen plans to suit your family's specific needs. Plan modification is fast, easy, & cost-effective, and will allow you to create your dream kitchen.