Outdoor Kitchen Island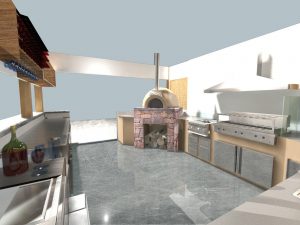 Wildwood's line of outdoor kitchen island modules make it is easy for you to construct an outdoor kitchen. Our system is precisely constructed  from durable welded tube steel, and they allow for unlimited configurations. Our factory made system provides an option to traditional intrusive construction methods. Easily assembles in hours, and they allow for custom site finishing with your choice of stone, tile, palter or thin brick.
Our system saves time and money over traditional brick and mortar construction, and they are designed by experts in outdoor kitchen layouts. Allow our team to design and fabricate your outdoor kitchen island. One of our kitchens with a Pizza Oven and BBQ is often cost less  than a family vacation.Call us today! We will take your dream kitchen,put it on paper and make it it a reality that your family will enjoy.
Watch this video to see how quickly Wildwood can make your outdoor kitchen island ideas a reality.