Modular Outdoor Kitchen Islands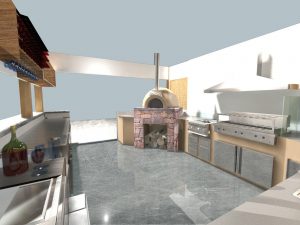 Wildwood's line of outdoor kitchen island modules makes it is easy for you to construct an outdoor kitchen. Our system is precisely constructed from durable welded tube steel, and they allow for unlimited configurations. Our factory-made system provides an option to traditional intrusive construction methods. Easily assembles in hours, and they allow for custom site finishing with your choice of stone, tile, palter, or thin brick.
Our socially distanced fabricated system saves time and money over traditional construction methods using brick and mortar construction.  Our design process is simple. We listen, we ask questions, then provide 3 distinct design options for review. Once our client decides on a design we create detailed floor plans using Auto Cad software.  from there we create elevation drawings and renderings. This is paramount to ensuring everyone is on the same page and your backyard kitchen design is exactly what you want. Before shipping, your outdoor kitchen island gets assembled and all appliances and built-in storage components are tested for fit and finish. All assembly details are videotaped and sent to the installation team.  Wildwoods modular outdoor kitchen islands ship vis LTL trucking and are delivered to your home or job site. Installation is fast and easy, usually less than a day.
We are experts at what we do.
Allow our team to design and fabricate your outdoor kitchen island. We have a library of well-thought backyard kitchen designs and we specialize in outdoor kitchen design and fabrication. One of our kitchens with a Pizza Oven and BBQ will often cost less than a family vacation. With families staying in more it time to re-imagine your outdoor area and create a destination in your yard, that is inviting, comfortable, and functional.
When you are ready to create your ultimate backyard hangout, talk to us.
Call us today! We will take your dream kitchen, put it on paper and make it it a reality that your family will enjoy.
Watch this video to see how quickly Wildwood can make your outdoor kitchen island ideas a reality.
Milano Corner Pizza Oven Stand

Milano Corner Pizza Oven Stand
50″ x 50″ x 30.5  x 30.5 x  42″ H
LARGER SIZES AVAILABLE
Material 16 Gauge Welded Tube Steel
Weight 190 lbs
Capacity: 2000 lbs

$

2,700.00

Add to cartMORE INFO

Milano Pizza Oven Stand

Milano Pizza Oven Stand

Made from 16 Guage Tube Steel

48" W X 51″ D X 44″ H

Weight 150 lbs

Capacity 3000 Lbs

$

2,300.00

Add to cartMORE INFO

Brazilian BBQ Churrasqueira Kit Module

Constructed of durable 1″ tube steel, this pre-fabricated rotisserie module is designed to fit our 5-15 skewer BBQ rotisserie machines. Options include two storage drawers underneath for cooking utensils and charcoal,  or 1 ash drawer. This module comes with a built-in fire pit for your convenience. Choose a finish and start making   Churrasco!

Read moreMORE INFO