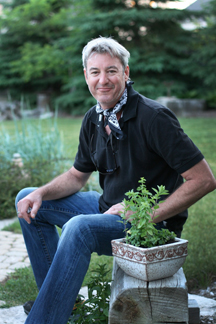 Chef Michael Gerard started his career in the family business at age 9, learning how to create blueprints and engineer electrical plans for various manufacturing facilities. By age 21, Michael received his electrical engineering and contracting license from the state of California. He then went on to develop Electel Co., a construction and engineering company focused on designing and building electrical and voice data systems to support various industries such as broadcasting, entertainment, manufacturing, and hospitality.
While growing up his family had an urban farm at their Los Angeles home where they grew what they ate, kept chickens, bees, and picked and canned their own produce.
"Long before this was a trend, this is how we lived. I learned how to harvest eggs, dispatch chickens, and extract honey from our beehives. Growing food was everything to my dad, who after working 12 hour days, would go home and work in the garden" – Michael Gerard.
In 2000 Michael followed a new path based on his passion for cooking and entertaining. He focused his energy on studying industrial design in an effort to create a modern wood-fired pizza oven.
Wildwood Ovens was Born.
The first ovens were designed in 2002 using computerized modeling and heat flow testing while incorporating modern refractory elements. This new generation of ovens has received accolades from chefs worldwide for their impressive performance. Wildwood is recognized as a leader in wood-fired ovens and Brazilian BBQs, with reputable clients like Marriott, Sheraton, Hyatt, Whole Foods, and many casinos. Wildwood's full-service vision includes culinary education, cookware, and design services, as well as catering.
As an accomplished chef Michael Gerard has trained many executive chefs over the years in how to run successful pizza and Brazilian BBQ operations. In addition to product design, architecture, and manufacturing he currently oversees the Wildwood Test Kitchen and Culinary classes at (www.thetestkitchen.org). He is a proponent of sustainable food production and the farm-to-table movement.
His love of architecture and building development has fueled his desire to design and construct buildings, outdoor kitchens, and restaurants. Michael has a strong grasp of building elements such as wood, steel, glass, and concrete that comprise modern construction. Knowing when and how to apply them creatively is what makes Michael's abilities unique.
Michael enjoys motorcycle riding, scuba diving, hiking, biking, surfing, gardening, cooking, welding, and making art.
Chef Micheal has designed and build over 1000 outdoor kitchens. To read about his outdoor design service click here.