Talk to Head Designer Michael Gerard

Michael Gerard created Wildwood Ovens out of a passion to cook the best tasting food over wood. During his pursuit he has installed over a thousand Wood Fired Ovens, Barbeques, and Grills. He shares your passion for creating the ultimate wood fired kitchen. Give him call to discuss your kitchen.
323-202-7964
Wildwood Wood Fired Pizza Ovens
Coming soon
Wildwoods double door oven is revolutionary new oven. Designed for through wall installation is like having two ovens in one. This amazing oven will allow cooking from either inside the house or out on the patio. Get the best of both worlds! A wildwood exclusive.
Our unique interlocking dome design represents years of careful research. Every aspect of fuel efficiency, firing consistency and durability has been incorporated into each Wildwood pizza oven. We can say quite confidently that there is no other pizza oven design that can provide such an unparalleled performance. Our pizza ovens heat up extremely fast, reaching 700 degrees F in an hour or less, and have very low wood consumption.
Each pizza oven is produced from our proprietary engineered refractory concrete which uses "heat pillow" technology. These heat pillows act as tiny sponges to absorb and hold heat for hours on end. Our unique, two-piece hearth has the food safe baking tiles built right in for ease of installation, saving you the trouble of putting in the bricks yourself. Assembling our pizza ovens is much easier than constructing your own hand built brick oven piece by piece, and the process takes only 30 minutes to dry-fit. We offer a 25 year warranty on our wood fired pizza ovens providing that the oven was assembled adhering to Wildwood's installation instructions.
FEATURES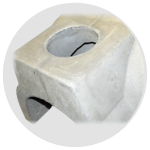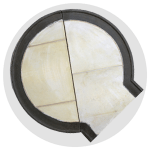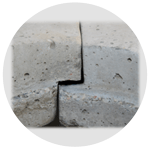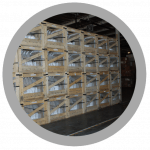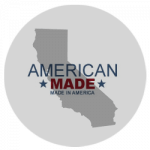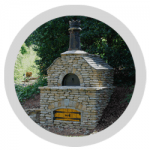 OVEN SHAPE-Dome shape is precision engineered to heat up fast (900 degrees F in 1 hour),retain high heat and weather soundly. Constructed of modern refractory elements.
INTERLOCKING DOMES-3-1/2″ thick dome pieces overlap to guarantee a positive seal, increase heat retention and makes assembly simple.
FOOD SAFE HEARTH-Includes purpose made baking tiles to deliver professional results when baking pizza and bread.
CHIMNEY SECTION-Unitized chimney piece makes installation of anchor plate easy and allows direct vertical venting for maximum efficiency.
25 YEAR WARRANTY-Our professional grade, Wood Fired Pizza Ovens are covered by 25 year warranty against defects. Warranties that are more than 10 years old are generally pro-rated, which means that for every year you own it, you would receive less and less credit. If you discover a defect, just email us or give us a call and we will go from there.
MADE IN USA-Our Wood Fired Pizza Ovens are manufactured in California. We are a group of individuals passionate about food, cooking, and living a balanced life. We believe in quality craftsmanship and work with the best materials to get the desired results. We sell the best for exactly the price it should cost. It's the very simple system at the heart of everything we make.
UL LISTED-All of our Wood Fired Pizza Ovens are professionally and rigorously tested under strict UL standards to provide you with the highest performing and safe cooking equipments.
SHIPPING-Our Wood Fired Pizza Ovens are shipped directly to our customers from our factory in California. Ovens shipped out of California will not be charged sales tax. Our ovens ship via LTL (Less Than a Load) carriers. We strive to obtain the best rates available. The ovens are shipped on trucks with lift gates, for easy delivery to your home, construction site, or warehouse. All ovens are shipped palletized and crated.